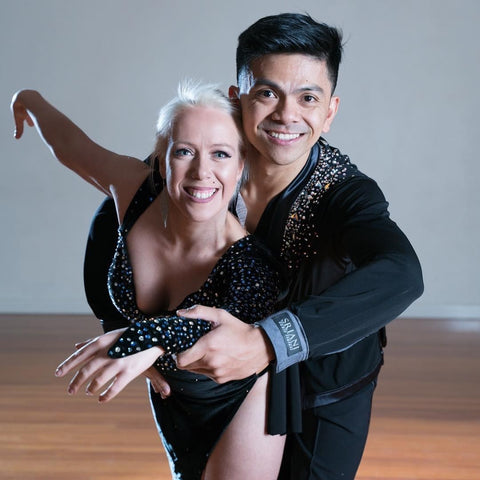 Sport/specialty/profession
Professional Dancer
---
Socials
---
Achievements
2015 – South Pacific Latin DanceSport Latin American Champion
2016 – 71st Australian DanceSport Championships – Lain American Top 10
2017 – 72nd Australian DanceSport Championships – Latin American Top 8
2018 – Crown International Dancesport Championship – Latin American 3rd Place
2018 – Victorian DanceSport Latin American Champion 2018
2018 – 73rd Australian Dancesport Championships – Latin American Top 8 – Ballroom Top 11 – New Vogue Top 12
2018 – World DanceSport Federation ADS – Ballroom Top 24 – Latin American Top 28
---
Tell us a bit about you and your journey…
About my Dancing…. I began dancing at the age of 5 in jazz, ballet and musical theatre. In years to come I would add tap, contemporary, neo-classical, acting and music into my life. In 2005 I graduated with an Advanced Diploma in Dance Teaching and Management and then in 2006 gained a job as a social dance instructor and fell in love with teaching others how to dance. It's here at the dance studio that I met my dance and business partner RJ in 2007. Together we have spread our love of dance all over Australia through workshops and performances at various schools and Latin dance events in Melbourne, Sydney, Brisbane, Gold Coast, Perth and Adelaide.
In addition to Salsa, Bachata, Tango and other partnered styles, we've trained extensively in both Standard and Latin ballroom styles such as the Waltz, Foxtrot, Cha Cha and Jive. In 2009, we chose to expand our focus, and delve into the Brazilian social dance styles of Samba de Gafieira and Zouk-Lambada. Drawing from or experience in both ballroom and the traditional styles of partnered Latin dance, we developed and specialized in these Brazilian dances. In 2014 and 2017, we travelled to Rio de Janeiro and Sao Paulo to seek extensive training and knowledge from the originators and masters of these dances. We were also given the honour of being the first Australian's and non-Brazilian's to perform at 2 Brazilian dance congresses in Brazil in front of the Brazilian Dance Community.
To push our dancing further, in 2015 we began our DanceSport competition career and to this day we have enjoyed winning several Australian competitions as well as seeing massive improvements in our overall dancing and performance presentations.
About Veganism/Fitness…. In 2017 I decided to go Vegan after struggling to lose weight after having my son Ethan in 2014. After 2 weeks I had lost 8kgs and in 3 months I lost a total of 14kgs. I felt absolutely amazing and I was happy with what I had achieved however, I looked like I needed to tone up. So I found a PT at Doherty's Gym in Melbourne and began my fitness journey. My PT recommend PranaOn to me back in February 2018 and I have been using it everyday since as apart of my health and lifestyle routine.
I started going to the gym 2 days a week and gradually settling on 5 days. I had some major dancing events in 2018 that I was a part of and all of my peers and dance community noticed my transformation and started asking me questions about my health, gym schedule and most importantly, about being Vegan and the food I ate.
Because I am quite well known in my industry, I am able to spread the word of veganism through dancing with an emphasis on health and fitness. Today, My training is based one what my PT calls "power Building" 5 days and week at the Gym (3 days low weight/high rep, 2 days high weight low reps) and dancing as cardio 6 days a week. PranaOn helps me to keep on top of my game as a busy woman with my son, dancing, gym, business and training.
What is your proudest moment thus far?
I have three 3 things so far… 1. Having my Son. 2. Opening up my own dance school with my dance and business partner in April 2019 called "Dance 4 Life Studios". 3. Raising just over $30,000 for "Big Brothers Big Sisters" through dance related charity events that I have organised over the years.
Tell us about your morning routine
Every morning I get my Son ready for school, make myself a coffee and get my food and smoothies organised for the day and then I either head straight to dance training and-or to the gym with my PranaON BCAAs ready to go.
What's your favourite PranaOn product?
I have 3 favorites to be honest: Intra Strength in Blood Orange, Phyto Fire Protein in Super Berry and Power Plant Protein in Himalayan Salted Caramel or Gingerbread.
What's your favourite way to use it or incorporate it into your healthy lifestyle, and why?
I have the Intra Strength during all my workouts either at the gym or when I am competing at a dance competition. The Super berry is a must have straight after all of my workouts and I always add banana and blueberries, it's super yummy. I use the power plant protein for baking as I LOVE my food! I use them in pancakes, cookies, brownies, ice-cream and at christmas time I used the gingerbread flavor to make gingerbread protein cookies.
Tell us something interesting about yourself or a hidden talent
I can play 8 musical instruments 🙂 My favorite being classical Double Bass.
Any superstitions?
I have a thing with even numbers and I have to walk on the right side of someone when walking down the street.
Do you prefer training in the morning or evening?
Always training in the morning and usually fasted as well. I am very much a morning person.
Where can we find you on a Saturday?
Either at home with the family or at a dancing gig, competition or event.
What's on the horizon for you?
There are always endless possibilities, especially if you put your mind to it. Right now, I will continue to grow and develop myself, my business and all other areas of my life..
Favourite motto to live by:
I have 3…sorry 🙂 1. Live what you Love 2. Be Inspired by yourself so that you can inspire others and to do that with honesty and selflessness 3. When life gives you lemonade, make lemons. Life will be all like WHAAAAAAT?"- Phil Dunphy
---
---