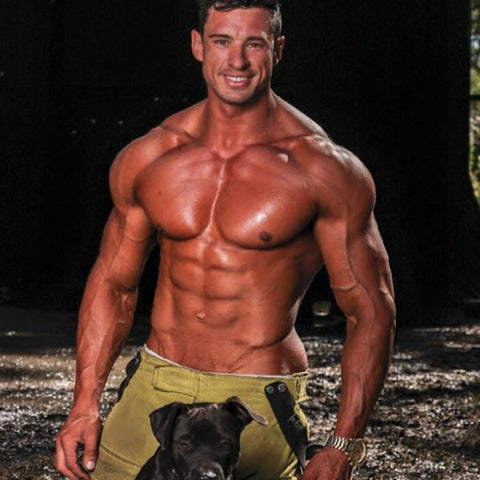 Tell us a bit about your journey...
I am a professional firefighter (8 years), personal trainer (10 years) and mountaineer (over 15 years). My fitness journey started as a child, I was a highly competitive swimmer and runner throughout school, and later played water polo and raced in mountain biking. I also pursued professionally and personally Outdoor Recreation guiding activities including hiking, kayaking, rock climbing and mountaineering. Later in life as I became a shift worker I needed to find sport that was not affected by my shifts so my focus became gym based training. I found a new passion and I became a personal trainer and coach, gaining years of experience and eventually competing myself in bodybuilding. I also became a professional firefighter, gaining valuable experience and knowledge of a completely different set of fitness activities. Based on all this background I established my online coaching programs for nutrition and training. Three years ago I transitioned to a plant based lifestyle and have never looked back. I am passionate about helping others do the same! I have recently also returned to a real passion of mine and once again become heavily involved in climbing and mountaineering, working towards the seven tallest summits on the seven continents. I have subsequently combined these passions and now help people work toward health and fitness goals not just in the traditional body composition sense, but now also for specific outdoor pursuits, and helping those people who want to transition into a plant based lifestyle.
Q. What is your number one health and fitness philosophy?
Find what makes you happy and do that! I believe everyone should incorporate healthy eating and fitness into their life. They key is finding what works for the individual and giving it everything you have to be the best you.
Q. How has incorporating Prana effected your lifestyle?
PranaOn has made a huge impact on my lifestyle, being able to incorporate such a great natural product into my nutrition has really changed the game. Plant based fitness made easy!
Q. What is your favourite Prana product?
My favourite product is the IntraStrength, I use it everyday whether I am training or at work, it provides what I need when I am on the go.
Q. What do you do to help make a positive difference in world?
I am a part of the Firefighters Calendar raising vital funds for the Children's Health Foundation. The work done in our children's hospitals in research, prevention, and treatment for childhood burns is incredibly important. And I am very proud to be a part of what they do! I like to get over to developing countries when I can to do volunteer work with Aussie Action Abroad. This year I am heading back to Nepal again to do some reconstruction work following the recent devastating earthquake. I also like to eat a whole food plant based diet. I believe this to be an important part of a sustainable future.
---
---