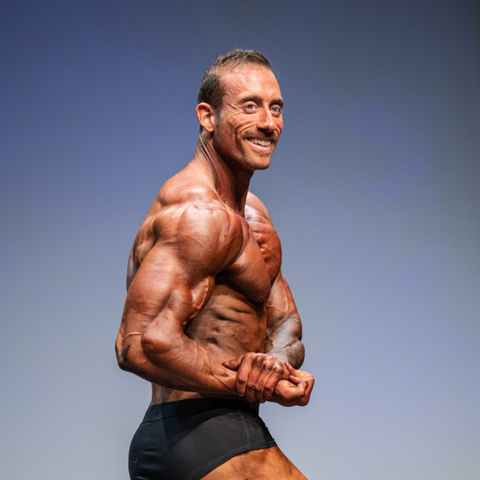 Sport/specialty/profession
IFBB Men's Classic Physique & Transformation Coach
---
Achievements
• Sport Science Degree
• Master Personal Trainer
• Sports Injury Therapist
• Massage Therapist
• Nutrition & Group Fitness Certificates
• Beauty & Laser Clinic Business Owner
• One-On-One PT & Online Coaching Business Owner
• Property Development
• Fitness & Runway Model
• 1st - Melbourne NABBA 2013
• 2nd - Australia Arnold Classic IFBB 2018
• 2nd - Victoria IFBB 2019
• 7th - Australia IFBB 2019
• Happily Married 😜
---
Tell us a bit about you and your journey…
I started training at 13 years old with no aspirations of competing. To begin I concentrated on mastering my bodyweight and at 14 years old I had my own home gym which at 16 I out grew. It was at this age I was introduce to a family friend who just so happened to be the farther of a world champion bodybuilder. He owned a 'dirt and grime old school' gym and he taught me the fundamentals of bodybuilding.

At 19, I went to university to study sport science and began to understand the why behind the how. Once I learned this I could begin to apply. I competed for the first time as a junior at 19 and immediately loved the competition side of bodybuilding. I competed several times between the age of 19-22.

At 22, I moved to Australia with my girlfriend (now wife) set up a beauty salon and fitness business and competed again at 23, this time winning and coming first in Melbourne. As my wife and I's business became more successful my focus switched and unfortunately competing was put on hold.

At 29, I stepped back on stage and came 2nd in Australia at the Arnold Classic. This year my wife and I also became Australian citizens which was fantastic timing as I was invited by Toney Doherty to represent Australia in the USA at 30.

At 31, I moved up a division (against the BIG BOYS) and came 2nd in Victoria and 7th in Australia.... and from here we push for the Olympia stage.
What is your proudest moment thus far?
Coming to Australia from a small town in the UK, becoming an Australian Citizen & establishing several businesses. All of this with my wife/best friend
Tell us about your morning routine.
• 4am Start - Power Plant Protein, Super Greens, Macadamia Nut Oil, Cinnamon & Turmeric
• 5am-9am - Coaching Clients, 2x Plant Bars
• 9am-11.45am - *Training* Intra Strength
• 11.45am-12pm - Power Plant Protein, Creatine & L-Glutamine
 What's your favourite PranaOn product?
Power Plant Protein , specifically Vanilla, Salted Caramel & Coconut flavour
What's your favourite way to use it or incorporate it into your healthy lifestyle, and why?
I can have a sensitive stomach especially when consuming 6,000-8,000+ calories a day, so I find the Prana Power Plant Protein takes the strain off my digestive system without compromising my dietary requirements as an athlete. I have anywhere between 1 to 3 shakes a day depending on my schedule and training. Recently, I have also just started incorporating the Prana Protein Bars - AMAZING!!!
Tell us something interesting about yourself or a hidden talent.
I haven't played in a while but I was part of the chess club back at school and I'm a bit of a geek when it comes to learning.
Any superstitions?
Karma - What goes around comes around. So be/do good, always!
Do you prefer training in the morning or evening?
Honestly, I don't mind as long as I get my workout in. I generally find that I am more awake in the evening but stronger around midday but mornings are good too!
Where can we find you on a Saturday?
• Coaching clients during the morning/day
• Training myself in the gym on the evening
• Food shop and food prep on the evening... yeah I know super exciting stuff right? But, I LOVE IT!!!
What's on the horizon for you?
Hopefully soon winning my IFBB Pro Card & competing on the Olympia stage. Plus, coaching my wife & clients to the same level!
Favourite motto to live by:
A man's mind once stretched, never returns to it's original dimensions.
---
---