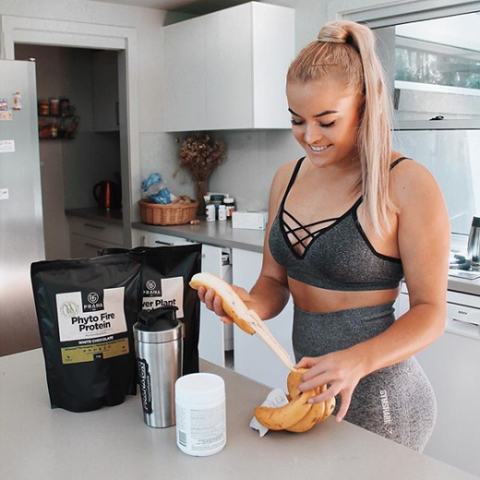 Sport/specialty/profession
Holistic Health Coach, Health and Fitness Influencer
---
Achievements
Helping others towards achieving their health and fitness goals, and educating others on how living an active lifestyle is so fun and easy!
---
Tell us a bit about you and your journey…
I have been an active person since I can remember! My childhood consisted of bushwalking, boating, skiing and sports in my spare time. Fast forward to 16 year old Sarah, where I suffered from anorexia nervosa, bulimia and depression and was admitted to hospital for 7 weeks where I cried myself to sleep almost every night. All my family and friends wanted was for me to be healthy and happy. And that was when I realised how important my health was. I was determined to show them I could be healthy by purely eating a plant based diet as it was a huge passion of mine! Even though being in hospital was the hardest time of my life so far, I value my health and wellness so much more than I ever have before, making time for self care including meditation, yoga and exercise, but also by understanding food is fuel, nourishing every cell in your body – not your enemy!
What is your proudest moment thus far?
Starting my health coaching journey at IIN Nutrition! It has taught me so much valuable information regarding health and fitness and how important taking care of yourself is. I get alot of people asking me 'How can I be healthy?' And I love how showing them through social media just how creative you can be with your food/workouts, while I'm learning myself too!
Tell us about your morning routine
I've recently been waking up at 6am every morning, so I can accomplish more things during the day, and be more productive. I love it! I wake up, chuck my gym gear on still half asleep and head to the gym. After my workout I come home and do a 20 minute meditation, and some yoga to stretch my muscles. I then have a protein green smoothie to nourish me after my workout, filled with PranaON protein powder, frozen banana, spinach, blueberries, coconut water and superfoods!
What's your favourite PranaOn product?
I am totally obsessed with the Power Plant Protein in Salted Caramel and in Coconut Milk. I can't decide on which one is better, they both taste so good!!
What's your favourite way to use it or incorporate it into your healthy lifestyle, and why?
They're so diverse! You can add it to your smoothies, make a protein shake, create coconut milk protein balls for a perfect snack or even a salted caramel hot chocolate before bed!
Tell us something interesting about yourself or a hidden talent
I am a very introverted person! It may not seem on social media, but I am very shy in person. I also used to play the piano, guitar and flute, and did singing lessons for 2 years!
Any superstitions?
I do believe in karma, what goes around comes around. I am also a firm believer of affirmations!
Do you prefer training in the morning or evening?
Either or, as long as I get a sweat on I am happy!
Where can we find you on a Saturday?
At the beach, swimming, eating acai bowls, listening to good music and hanging out with my boyfriend!
What's on the horizon for you?
Creating a blog/recipe book or fitness guide, maybe opening a vegan cafe, and creating quality Youtube videos!
Favourite motto to live by:
You create the life you want to live and your own reality. You believe, you achieve.
---
---